Welcome to the Curious George Wiki
Curious George is a series of popular children's books by the same name, written by H. A. Rey and Margret Rey. The books feature a brown monkey named George, who is brought from his home in Africa by "The Man with The Yellow Hat" to live with him in a big city.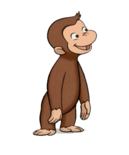 George's dominant trait is being overly curious, like his name suggests. He is also known for being a bit reckless and can get a bit carried away with his monkey-like instincts and behaviors. Nonetheless, he still has a very caring and generous personality, and means well.
Ad blocker interference detected!
Wikia is a free-to-use site that makes money from advertising. We have a modified experience for viewers using ad blockers

Wikia is not accessible if you've made further modifications. Remove the custom ad blocker rule(s) and the page will load as expected.